QUARTZ Wash Hand Basin with Half Pedestal
QUARTZ Wash Hand Basin with Half Pedestal: Elevate Your Bathroom with Timeless Elegance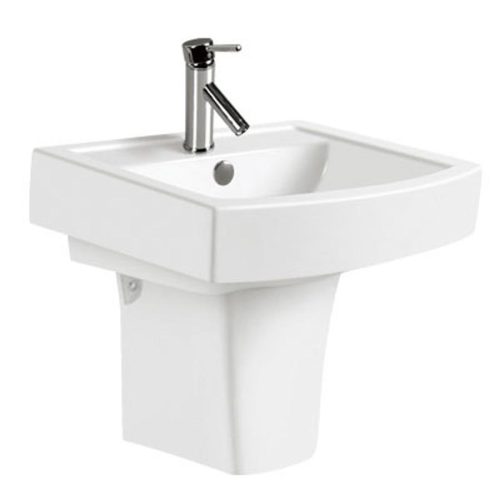 Description
Elevate your bathroom to new heights of sophistication with the QUARTZ Wash Hand Basin with Half Pedestal.
Crafted with meticulous attention to detail, this premium fixture effortlessly combines form and function, setting it apart as the centerpiece of your bathroom oasis.
Key Features:
Effortless Elegance: The QUARTZ Wash Hand Basin with Half Pedestal embodies understated elegance, transforming your bathroom into a sanctuary of style and comfort. Its sleek, contemporary design and clean lines make it a timeless addition to any decor.
Space-Saving Brilliance: Designed with modern living in mind, the Half Pedestal not only adds an air of sophistication but also maximizes space efficiency. Enjoy an uncluttered, open feel in your bathroom while optimizing every square inch.
Superior Craftsmanship: Crafted from high-quality materials, this basin is a testament to enduring quality. Built to withstand the rigors of daily use, it offers both longevity and aesthetic appeal, ensuring it remains a statement piece for years to come.
User-Centric Design: The QUARTZ Wash Hand Basin is thoughtfully designed for your convenience. Its generous basin size and comfortable height provide a delightful washing experience, while the integrated overflow ensures peace of mind.
Effortless Maintenance: Bid farewell to arduous cleaning routines. The basin's smooth, non-porous surface makes cleaning a breeze, preserving its pristine shine with minimal effort.
Tailored to Your Taste: With a range of sizes and finishes to choose from, you can personalize your bathroom space with the QUARTZ Wash Hand Basin. It's your canvas to express your unique style and vision.
Timeless Appeal: The QUARTZ Wash Hand Basin transcends trends, maintaining its timeless allure. It effortlessly adapts to evolving interior aesthetics, ensuring your bathroom remains a symbol of enduring elegance.
Seamless Installation: The included comprehensive instructions and hardware make installation a straightforward process, allowing you to transform your bathroom quickly and hassle-free.
A Trusted Name: QUARTZ is synonymous with reliability and innovation. Our Wash Hand Basin with Half Pedestal reflects our unwavering commitment to excellence and customer satisfaction.
Immerse yourself in luxurious handwashing experiences, all while enhancing the aesthetics of your home.